Vegan Cantonese spring rolls
Spring rolls are rolled appetisers or dim sum, small Chinese dishes, filled with ingredients differing whether you visit China and other Southeast Asian countries. We made our take on these delicious rolls by preparing vegan Cantonese spring rolls, made with texturised soy protein instead of pork, present in the original recipe.
Besides Cantonese spring rolls, a very common and widespread version around the world is Shanghai-style spring rolls. They are made with pork as well, but some ingredients differ. For instance, the Cantonese rolls contain bamboo shoots and carrots, while the Shanghai don't.
Also, please don't confuse Cantonese spring rolls with another great dish, the Vegan Vietnamese spring rolls (delicious as well, btw, and highly recommended!)
Ingredients
For this recipe, you will need quite a few ingredients, all quite easily available in better-supplied supermarkets or, for some, farmers' markets.
Texturised soy protein
Vegetable broth
Mirin – mirin is usually easy to get, but you could use the more original Shaoxing wine when available.
Garlic
Carrots – finely shredded
Dried shiitake mushrooms – sliced
Napa cabbage – finely shredded
Bamboo shoots – use fresh is available; if not, you can use canned ones like we did
Soy sauce
Sesame oil
Salt – to taste
White pepper – just a pinch to taste
Sugar
Cornstarch
Water – to dilute cornstarch in, using the same amount as cornstarch
Spring roll wrappers – we used wrappers sized 15cm. Fresh wrappers are better than frozen as they will be easier to manage, but we used frozen ones.
Vegetable oil – for frying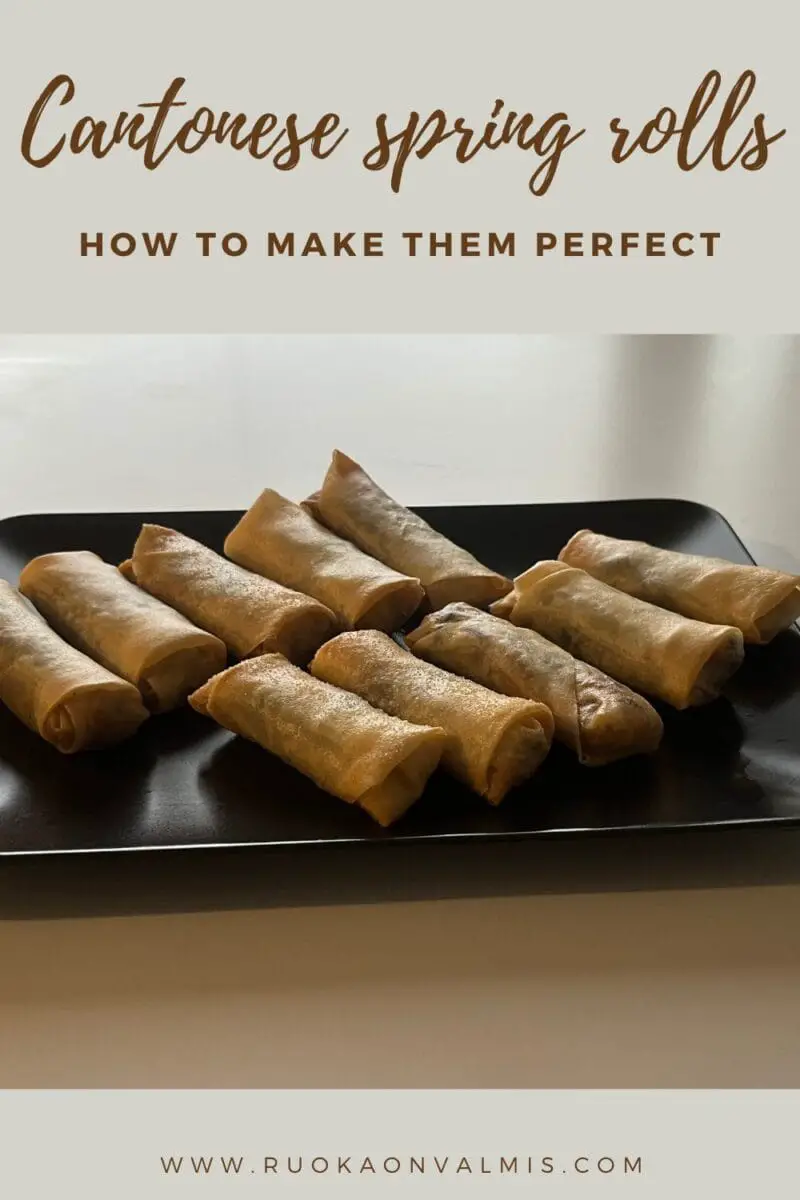 How to fold the spring rolls
If you can get fresh wrappers, favour them over the frozen ones. If you use previously frozen ones, give them proper time to thaw following the package instructions. Separate the wrappers carefully, one by one, little by little.
Once you have a wrapper ready, place it on a flat surface with a corner facing you.
Put a couple of tablespoons of filling on the wrapper, leaving 5cm/2inches from the corner.
Roll the corner over the filling and fold over both sides.
Take the two lateral sides and fold internally.
Brush the top corner with cornstarch water and keep rolling until the spring roll is ready.
Place on a tray for later deep frying.
Follow the same steps for each of them. This recipe will make 40 Cantonese spring rolls with wrappers sized 15cm/6inches.
How to deep fry
Place the vegetable oil for deep frying in a use a deep fryer. If you don't have one, use a saucepan that can handle deep frying. Heat it to medium temperature until it reaches around 160°C/325°F. Add the wraps, in small batches. Remember to turn them so that they will get gold on both sides if not using a deep fryer.
Once they are ready, place them on a plate, lined with paper towels so that they have time to dry, and the oil will be partially absorbed before eating.
Tips
Making Cantonese spring rolls may sound quite complex, but the truth is that it's not. It requires quite some time because there are many ingredients to prepare and because of the folding process, but their amazing flavour makes them worth all the time in the world.
With some tips, making these rolls will be much handier:
Remember to cook all the ingredients before starting the rolling process. In the meantime, if you use frozen wrappers, let them thaw properly.
All the veggies, including the mushrooms, should be cut to equally-sized thin slices to make sure everything in the wrapper tastes balanced.
The shiitake mushrooms need to soak for around 25 minutes until soft. The mushroom water can be used for this dish for additional flavor. Or you can save it for other dishes, such as soups (remember to filter it before using it). If you don't plan on using it later on, you can just get rid of it.
It's important not to overfill the wrappers, as an excessive filling amount will cause them to break.
If you don't have a deep fryer, no worries: you can use a large saucepan, pour some oil and turn the wraps so they will get golden on both sides.
Let paper towels absorb the excess oil. They will be "lighter" and easy to eat and digest.
Dipping sauce
Cantonese spring rolls are usually served cut in half, usually with scissors in restaurants. Of course, you can serve them as you prefer, cut or entire rolls. They can be eaten with a dipping sauce or as they are, with no additional dipping sauce.
We opted for a very basic light soy sauce, as we had it available and we did not plan to make any particular dipping.
FAQs
Can I make them in advance?
Yes, you can make the rolls and freeze them. To avoid for them to stick to each other, freeze them on a tray overnight and on the following morning put them in a bag.
Can I cook them in an air fryer?
Yes, of course. Follow your air fryer instructions about pre-heating, and cook for around 6 minutes.
How can I reheat them?
Yes, you can reheat Cantonese spring rolls in the oven. Set the oven to 350°F/180°C and heat them for around 6 minutes, turning at halftime.
Can I store spring rolls for later?
Yes, you can store the spring rolls in the fridge for a few days or even store them in the freezer for a longer period. If you freeze them, use only fresh ingredients to make sure you don't re-freeze already thawed wrappers or other ingredients. Store rolls before frying and deep fry only the day you will eat them.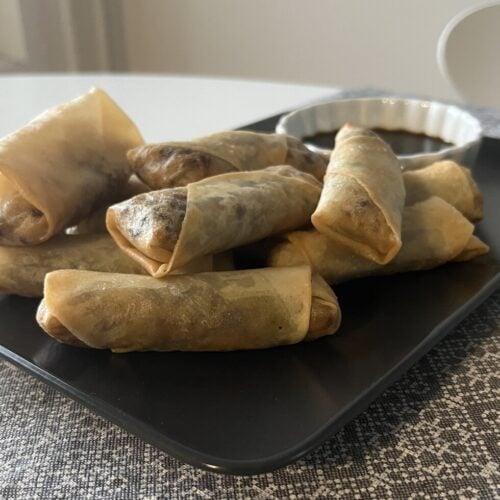 Cantonese spring rolls
The Cantonese spring rolls are amongst the most known and delicious rolls made in Southeast Asia. This version is fully vegan.
Ingredients  
Protein and marinade
1

tsp

vegetable oil

55

g

texturized soy protein

200

ml

vegetable broth

¾

tsp

sesame oil

1¼

tsp

mirin

use shaoxing wine if you have

½

tsp

cornstarch

¼

tsp

salt

¼

tsp

white pepper
Filling
2

tbsp

vegetable oil

1

clove

garlic

3

medium carrots

40

gr

dried shiitake mushrooms

500

gr

napa cabbage

150

gr

bamboo shoots

1

tbsp

mirin

use shaoxing wine if you have it

2

tbsp

soy sauce

1

tsp

sesame oil

½

tsp

salt

white pepper

to taste

¼

tsp

sugar

2

tbsp

cornstarch

dilute in same amount of water

50

ml

water from shiitake mushrooms

(optional)
Wrapping
40

spring roll wrappers

we used wrappers sized 15cm

2

tbsp

cornstarch

dilute in same amount of water

vegetable oil

for deep frying
Instructions 
Protein and marinade
Heat oil in a pan and add the soy protein.

Let cook for a while and then add the vegetable broth in a few batches, letting the broth absorb completely every time before adding more.

Set aside, mix with the marinade ingredients when cooled. Set aside for half an hour.
Filling
In the meanwhile, soak the mushrooms in water until soft. Save the required amount of the mushroom water.

Cut all the vegetables and mushrooms into similar, thin, slices (julienned).

Over high heat, preferably on a large wok pan, heat the oil and add garlic, mushrooms and carrots. Stir fry for less than a minute.

Add bamboo shoots, napa cabbage, and shaoxing wine. Stir fry for a minute and let simmer while all the water from the cabbage evaporates.

Add the soy protein, soy sauce, sesame oil, salt, white pepper, sugar, and the mushroom water..

Let simmer until the cabbage is completely wilted and water evaporated. Then add the cornstarch, diluted in water. Mix and make sure that there is no liquid left in the filling mixture.

Let cool and then place in the fridge for an hour to cool completely.
Wrapping
To wrap, take a wrapper, one corner of the wrapper facing you.

Place a spoonful or two of the filling onto the wrapper, about 4-5cm/2 inches from the corner facing you.

Roll over the corner once and then fold the sides over the rolled corner.

Keep rolling until almost closed. Put some cornstarch with you finger on the sides of the remaining corner (the one farthest from you) and roll to close completely.

Keep rolling until you finish with the filling. Start with one spoonful and only then increase if you see that the wrapper can have more filling.
To deep fry
Heat the oil carefully in a pot (about 10cm/4inches of oil) until hot enough to fry (about 160°C/320°F).

Deep fry the rolls in small batches, fipping them around when half-way ready. The rolls are ready when golden brown. This will take only a few minutes

Move to a plate lined with paper towels to absorb the excess oil.

Serve hot with or without a dipping sauce.
Nutrition
Calories:
87
kcal
Carbohydrates:
14
g
Protein:
3
g
Fat:
2
g
Saturated Fat:
0.3
g
Polyunsaturated Fat:
1
g
Monounsaturated Fat:
0.4
g
Trans Fat:
0.01
g
Cholesterol:
2
mg
Sodium:
232
mg
Potassium:
81
mg
Fiber:
1
g
Sugar:
1
g
Vitamin A:
818
IU
Vitamin C:
4
mg
Calcium:
25
mg
Iron:
1
mg
Caution
Nutritional information shall not be used for medical reasons.