Pavlova is a true dessert classic. A base made entirely of meringue, topped with whipped cream and berries is simple but sure to impress with its light texture. It really is a great summer dessert! If you are looking for a perfect pavlova recipe to follow to cheer you up, you are in the right place.
Last week it was my birthday and, as usual, it was an occasion to think of a dessert to make. We celebrated with a few members of the family here in Finland so we wanted to surprise them with a nice dessert to go with coffee. In Finland, everyday meetings or celebrations often revolve around having a nice cup (or many of them) of coffee!
Last year we prepared a Charlotte cake, and during summer we made an authentic Finnish Brita cake, so this year we had to try a different one. We were fascinated by the idea of making Pavlova, even though it seems quite difficult, because of the meringue base. Turns out, actually, it was not that hard. You will soon see why this pavlova recipe is super easy to follow.
The origin of Pavlova
Did you know that the incredibly delicious Pavlova comes from New Zealand? Or did you think it comes from Australia? I mean, in both the cases you might be right. The truth is that we do not know where it comes from. Both the countries might be the home of this fresh dessert.
What we know for sure is that the cake was dedicated to the dancer Ana Pavlova, a Russian prima ballerina of the late 19th and the early 20th centuries. The problem with locating the origin country is that the cake was dedicated to her after one of her tours in one of the two countries.
New Zealand and Australia are known to have a pavlova rivalry to decide who takes the credit for the original pavlova recipe.
Seasonality and ingredients for a perfect pavlova recipe
In its countries of origin, pavlova is often eaten in the hot months of summer. This means that Australians and New Zealanders usually enjoy it around Christmastime!
In any case, this cake is best to be served in the hot months of summer as it is quite fresh. It is eaten cold and the whipped cream plus fresh berries will give the exact right amount of freshness for a hot summer. The sugary meringue does fit for other times of the year too, so feel free to ignore the seasonality and just make it whenever, but without the fresh berries of course. Following this pavlova recipe, you will have a perfect dessert that you will want to eat more and more of.
As said, the ingredients for this pavlova recipe are quite summery. The base of the cake is made of meringue and it's extremely important to follow each step of the recipe very carefully because any mistake can affect the way the batter is spread on the baking paper, which will then affect the shape of the cake. Making the meringue is very easy and we will only need sugar and egg whites at first, then adding cornstarch, vanilla sugar, and vinegar (the last three in very small amounts).
On top, we added whipped cream and berries. You are free to change the toppings of this recipe but we highly recommend the ones we used. Any fruit or berry works great with whipped cream!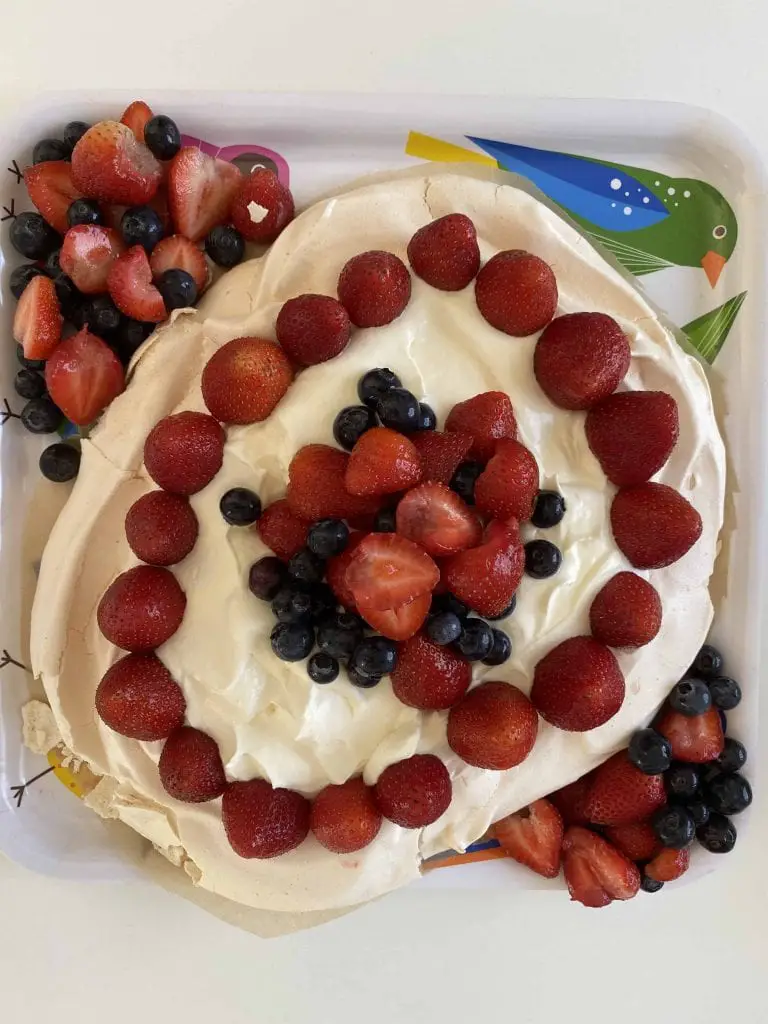 How to store pavlova
If you need to store your pavlova, be aware that storing it in the refrigerator will make the meringue sweat, so it is not recommended if you want to preserve the texture of this cake. This said, we recommend you store the meringue base in an airtight container for a couple of days at room temperature. Just remember not to add any toppings before serving.
When you need to eat it, take it out of the container and place freshly whipped cream and berries on top. Eat within some hours.
Another fresh idea for summer
If you are looking for a fresh summer dessert, a great alternative to this Australian/New Zealander pavlova recipe is our Brita cake recipe. It is another great meringue-based cake and perfect for summer. A tradition of Finland, this cake is very popular in summer and is made of meringue and a sponge cake layer, with whipped cream and berries as garnishes.
If you have not tried either of them or only one of them, we suggest you run to your kitchen and turn on the oven.
---
If you liked this pavlova recipe, please follow us on:




---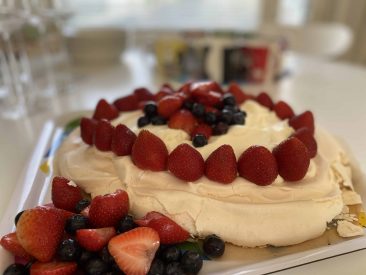 Pavlova
Pavlova is a true classic dessert. A base made entirely of meringue, topped with whipped cream and berries is simple but sure to impress with its light texture. It really is a great summer dessert!
Ingredients  
Meringue base
4

egg whites

200

grams

sugar

1

teaspoon

vanilla sugar

1

teaspoon

vinegar

1

teaspoon

cornstarch
Toppings
4

deciliters

cream to whip

2

tablespoons

sugar

1.5

teaspoons

vanilla sugar

berries
Instructions 
Preheat the oven to 180°C. Make the sugar finer by passing it into a food processor for a short time.

Beat the egg whites until stiff and soft peaks form. This may take about 5 minutes.

Add half of the sugar. Then beat for 30 seconds and add the other half. Keep beating for about 2 minutes until stiff peaks form.

Add the vanilla sugar (or extract) and beat for another minute. If the peaks are not very stiff now, keep beating until they are.

Fold in the vinegar and cornstarch with a rubber spatula.

Line a baking tray with baking paper. Spread the mixture into a 20-24cm circle. Keep the edges tall and form a thinner part in the center. That part will be filled with the toppings so make it big enough.

Put the pavlova in the oven and reduce the heat to 95°C. Bake for 90 minutes, until firm and dry. If it starts turning brown from any side, rotate the baking paper.

Turn off the oven but don't take the pavlova out. Let it cool inside.

Once cool, whip the cream (remember to add sugar and vanilla sugar). Top the pavlova with the cream and then add your choice of toppings. Serve.
Notes
For berries, use

strawberries, blueberries, raspberry.

White wine vinegar is a good option to use.

If you do not have vanilla sugar,

you can use vanilla extract as well. 

Don't open the oven when not necessary. It will interrupt the baking process.
Caution
Nutritional information shall not be used for medical reasons.