Vegan Vietnamese spring rolls
Spring rolls are appetizers (rolled and filled) extremely common in Asia and Latin America, but they have become known worldwide and in Europe among the places, where customers can easily buy them in supermarkets, in Asian restaurants, or make them home. With the spreading of technologies and the Internet, it's amazing how easy is to access recipes and feel in many different parts of the world at the same moment!
Variations
Spring rolls is the literal translation of chūn juǎn (春卷), a Chinese word. As said, this dish in some form or another is popular around the globe and this is the reason why we can find many variations in different continents, with different fillings and different ways of cooking them. In fact, some spring rolls are fried and others are fresh.
In Hong Kong and Macau, for instance, the classic spring rolls are filled with minced pork, carrots, bean sprouts, and served with a dipping sauce. In Taiwan, differences can be found if you happen to be in the North or in the South because in the North ingredients of spring rolls are usually stir-fried, while in the South they are boiled.
In Vietnam, the spring or, summer, rolls are called Gỏi cuốn and are made by wrapping pork, prawns, vegetables, and rice vermicelli in rice papers. They have a hard consistency but are then dipped in water so that they become soft. This is the type of spring roll featured in this recipe.
How to make vegan Vietnamese spring rolls with tofu
To make the rolls, you need to have rice paper wrappers available. They are a hard and brittle piece of rice paper that you need to dip in warm water, place it on a plate, fill it, and close it. Our version does not include pork nor chicken nor prawns. In fact, you will be able to make vegan Vietnamese spring rolls.
The great thing about these rolls is that you can have many options as the protein part of the filling. We use tofu cubes that are already marinated because they are an easy option and taste great in the rolls. They are easy because you only need to cook them for a few minutes on a pan and then they are ready to be used as a filling.
To serve the vegan Vietnamese spring rolls, we have used peanut hoisin sauce as a dip. We love it so it was quite an easy choice for us, and it also fits perfectly with the rolls!. These rolls are eaten fresh, so you can fully enjoy your dish as soon as you make it. No need to fry or cook it for any reason.
---
Have your tried making home these vegan Vietnamese spring rolls or do you prefer them with different fillings? In any case, they are a great way to start a meal or to be it!
If you liked this vegan Vietnamese spring rolls recipe, please follow us on: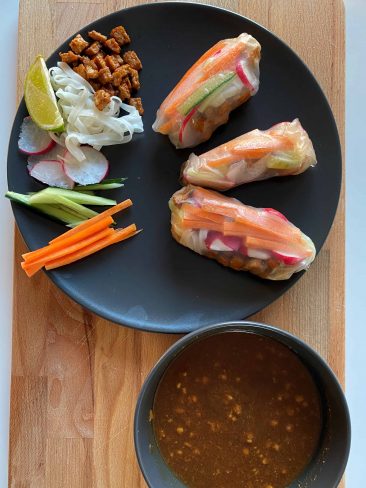 Vegan Vietnamese spring rolls
Spring rolls are rolled-filled appetizers extremely common in Asia and Latin America, but they have become known worldwide. These are fully vegan, made with flavored tofu, and delicious!
Ingredients  
rice paper wrappers

rice noodles

peanut hoisin sauce

Recipe link in the instructions

carrot

radishes

cucumber

red cabbage

lime

cilantro

ready-flavored tofu cubes
Instructions 
Slice the vegetables. Cut the carrot, cucumber, and red cabbage into long thin strips. Slice radishes thin. Cut limes into wedges.

Prepare the protein of your choice. We use spiced tofu cubes because they are easy and fit well. Boil the rice noodles according to package instructions. (You can use either thin rice noodle vermicelli or thicker ones. It's up to you.)

Boil some water and place it on a wide dish where you can fit the rice paper wrappers to be dipped.

Assemble all the rolls. Dip a wrapper into the warm water, fill the center vertically with the vegetables, noodles, the protein of choice, and some cilantro. Sprinkle with lime juice. Close the rice paper wrapper by rolling and then close the sides. If you wish to have a more well-closed roll, use another rice paper but roll the paper horizontally this time to close it well.

Serve the rolls with the peanut hoisin dipping sauce.
Caution
Nutritional information shall not be used for medical reasons.