Vegetarian fried chicken bites
If you are a lover of fried chicken but you are vegetarian or you want to opt for a vegetarian meal, this recipe is for you. You will be able to make vegetarian fried chicken bites, without missing even chicken for a second. These bites have a delicious Japanese-style marinade which is coated with panko bread crumbs for maximum crunchiness.
When trying to replace meat with vegetarian alternatives, it's often problematic to have the same type of taste, and most importantly, texture. In this case, frying helps and soy chunks are perfect to replace chicken. With the delicious marinade and the texture of the soy chunks, you won't miss chicken at all in this recipe. The recipe is very easy to follow and you will be completely amazed by the result. We promise you!
We use texturized soy chunks that are sold as dry. They are easy to cook because you only need to boil them until soft and then dry them out of any excess liquids as well as you can. That will guarantee a meat-like texture easily.
How to prepare vegetarian fried chicken bites
We use a Japanese-style marinade for the vegetarian fried chicken bites. The marinade is technically called kara-age, which is a cooking method in itself. This means frying the soy chunks traditionally often chicken) only in potato starch (and some additional things, like the marinade here). We added panko bread crumbs because they add a lot of great texture but if you prefer, you can fry the marinated soy chunks without it too.
As said, the rest is easy. You first prepare the soy chunks, then the marinade, and then fry them with or without panko.
How to serve them with
We decided to eat these mouthwatering vegetarian chicken bites with Japanese rice and broccoli, cooked in sesame sauce. For instructions on how to wash and properly cook rice, have a look at our how-to guide.
An additional touch is sprinkling some lemon juice on them. You can even enjoy them with mayonnaise and it will taste great.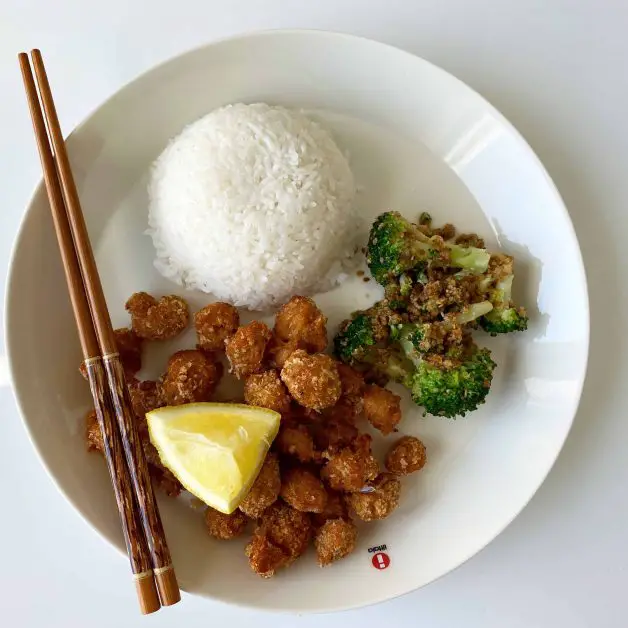 ---
Have you ever eaten vegetarian fried chicken? What do you eat with them?
If you liked this vegetarian fried chicken bites recipe, please follow us on: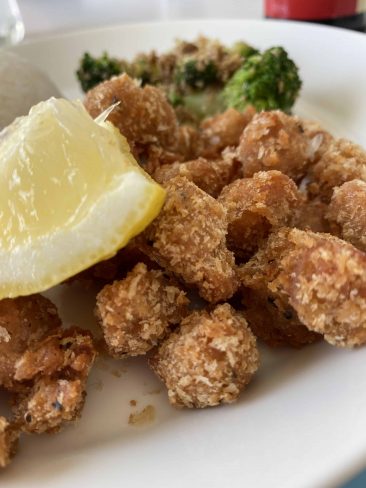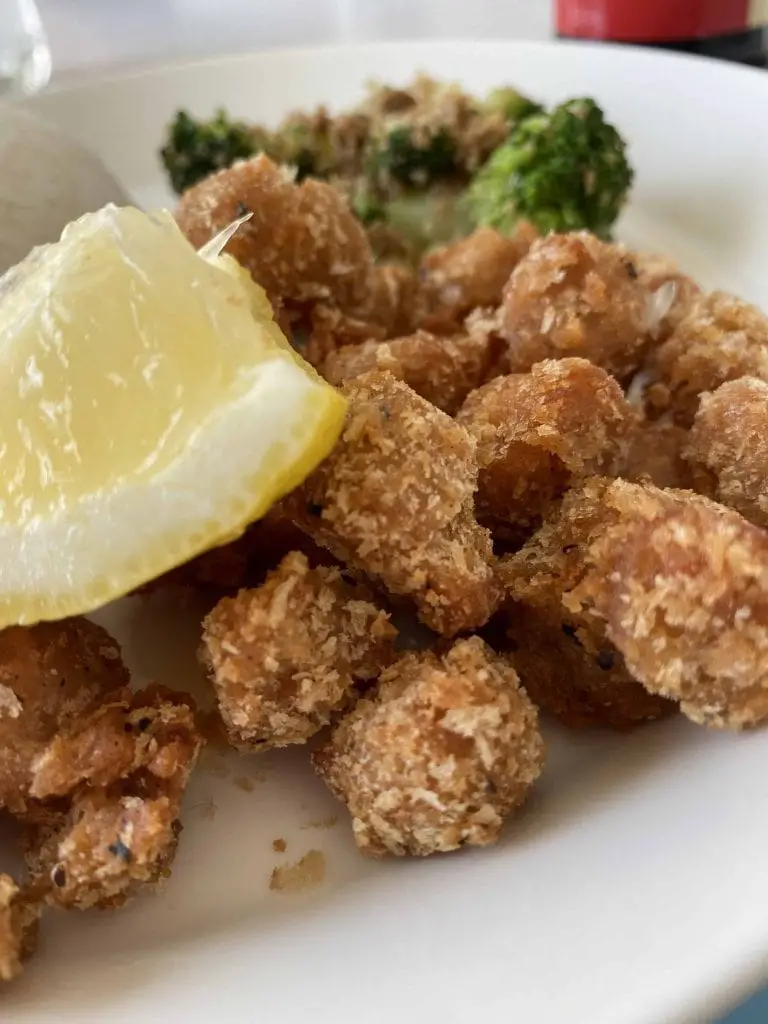 Vegetarian fried chicken bites
If you are a lover of fried chicken but you are vegetarian or you want to opt for a vegetarian meal, this recipe is for you. You won't notice the different.
Ingredients  
For the marinade
1

egg

1

garlic clove

minced

ginger

2cm, grated

1

tablespoon

sesame oil

1.5

tablespoons

soy sauce

1

teaspoon

sugar

5

tablespoons

potato starch or corn starch

1

teaspoon

cinnamon

pepper
Additionally
dry soy chunks

they replace about 400g of chicken so about three to four of handfuls of dry soy chunks should do it

panko

lemon

oil for deep-frying
Instructions 
Cook the dry soy chunks according to the package instructions. Usually, this means boiling them for only a few minutes until they turn soft and then draining them of excess water. You can add a vegetable stock cube to the water to have more taste. Dry the chunks well by pressing the water away from them over a sieve.

Combine all the ingredients of the marinade and mix well. Add the cooked and well-dried soy chunks. Mix well. Leave the marinade in the fridge for at least 30minutes (more for a stronger flavor).

Prepare a plate of panko. Take the marinade from the fridge and mix again (the potato starch sticks to the bottom otherwise). Roll each piece in panko and set aside to be fried.

Heat enough oil to deep-fry in a pot over medium-high heat. Fry the pieces in the oil for 4-5 minutes, or until golden brown. Remove the pieces from the oil and drain them on a paper towel. Serve with lemon juice.
Caution
Nutritional information shall not be used for medical reasons.