[the_ad id="615″]
We all know that Friday evening is for most of us the perfect moment for relaxation: after an intense working week, we all just wait for that moment. We play some music or a movie, and we fully enjoy the evening. There is a but, though (a recurrent one, to be honest): what to cook? Why not try out our four cheese gnocchi recipe?
This week we wanted to make something that we do not make often, which is always a risk when cooking. Pasta is also something that we do not eat very often for dinner, but we can make an exception sometimes! What better than four kinds of cheese to give a great taste to our gnocchi?
What gnocchi brand to use?
Let's be honest: the best way to make four cheese gnocchi is to first make your homemade gnocchi. Following our recipe, you will have fresh gnocchi pasta in less than 90 minutes to use as you wish. Please, have a look at our Gnocchi alla sorrentina recipe too.

Making homemade gnocchi is not difficult: you only need potatoes, flour, an egg, and salt. Four basic ingredients for an extraordinary result. As we always say, nothing tastes better than the food you make yourself.
In order to obtain the ridged shape of gnocchi, you need a dedicated gnocchi board, such as Wooden Board for Rolling Gnocchi and Garganelli Pasta or Wooden Board with base for Rolling Gnocchi and Garganelli Pasta (these are affiliate links. If you buy these products, we get a small commission. You won't be paying anything extra).
If you do not have time to make your own homemade gnocchi, feel free to use fresh ones from the supermarket. You will have many to choose from.
Ingredients for perfect four cheese gnocchi
As the recipe says, this dish has four different kinds of cheese, in addition to milk. Many recipes of pasta with cheeses include flour and butter to create the classic roux, before adding the milk and the cheese. We believe there is no need for additional ingredients.
The cheeses we used are plain Philadelphia, Gongorzola, Parmigiano, and Emmental. Obviously you can opt for the cheeses you prefer. There is no written rule to tell you what are the best cheeses for this gnocchi dish. As always, you are the master of your dish, so use your taste and your fantasy.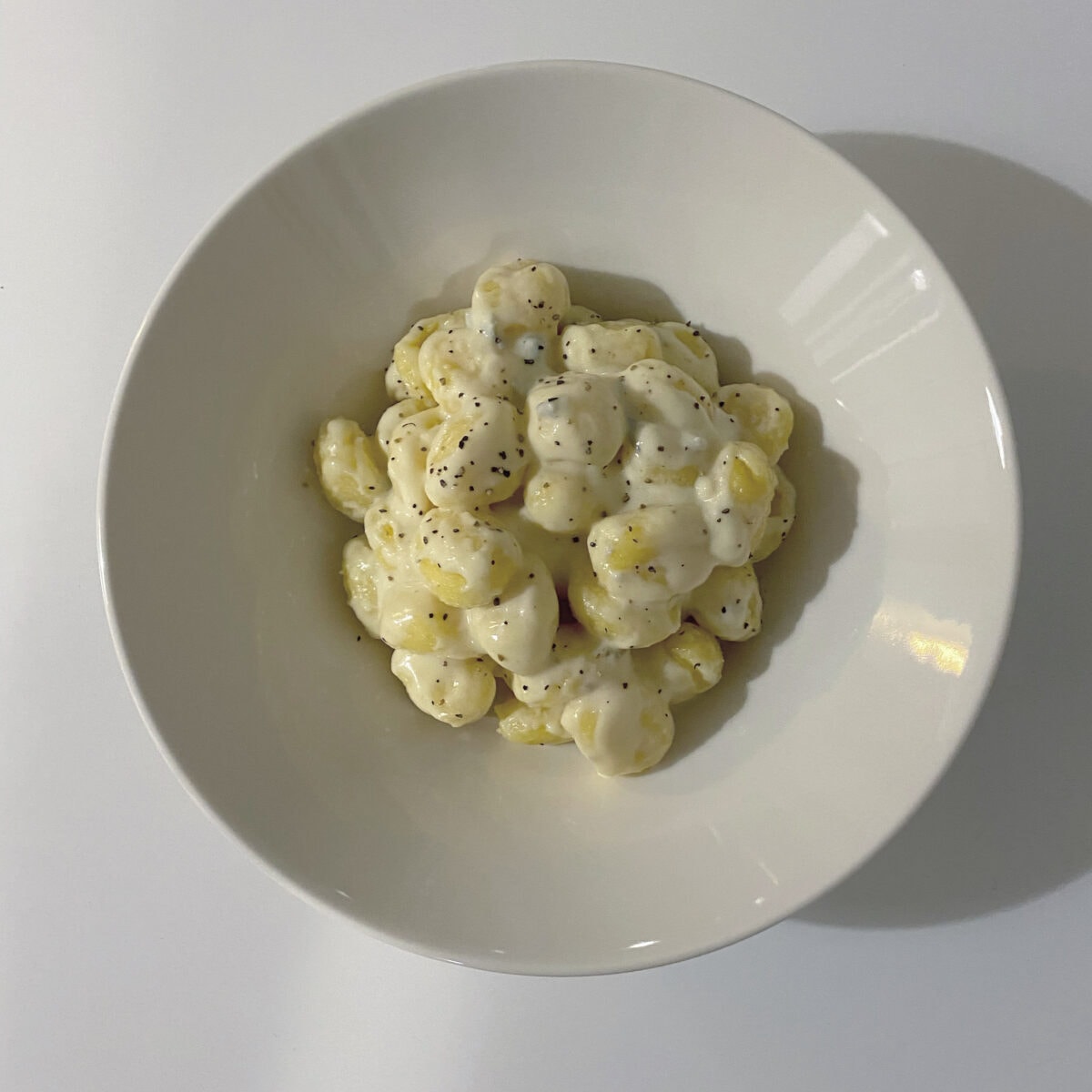 As gnocchi are fresh, they will cook in a couple of minutes and the time you will take to make the cheese sauce is no more than 10 minutes. Once the milk is warm enough in the pan, you can start adding the cheeses, while mixing until dense. We can clearly classify this four cheese gnocchi dish as a fast one to make.
How to store them
Four cheese gnocchi is not really a dish we recommend you store for later. The cheeses will get stuck together while in the fridge and make the gnocchi unpleasant to eat. As this dish requires 10-15 minutes, it is always best to eat it when you make it.
If you wish to store your cheese sauce in the fridge separately, you can. Store it in a proper container, well-closed, and keep it in the fridge for 1-2 days. When you need to use it, heat it with some milk, to create again the consistency that it had when it was first cooked. Cook the pasta and serve.
We do not recommend you store the sauce or the four cheese gnocchi in the freezer. The pasta would become extremely chewy and storing cheeses or cheese sauce in the freezer is not suggested. Theoretically, a cheese sauce can be frozen for up to six months, but each cheese behaves in a different way in terms of texture and taste, so if you really need to freeze it, investigate it further.
---
If you liked this four cheese gnocchi recipe, please follow us on: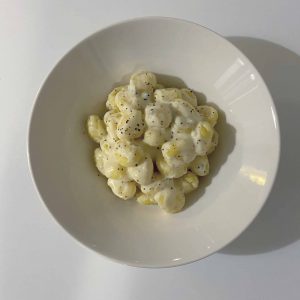 Four cheese gnocchi
There are several ways to make gnocchi but four cheese gnocchi dish is definitely a tasty one. Plus, it is easy!
Ingredients  
500

grams

gnocchi

90

milliliters

milk

40

grams

parmigiano

50

grams

gorgonzola

we used a mild one

40

grams

emmental

40

grams

Philadelphia cream cheese

Salt

Pepper
Instructions 
Start by boiling the water for the gnocchi.

While the water is heating up, start warming up the milk in a separate pan.

Little by little, add the four pieces of cheese, previously cut into small pieces. Start by adding harder types of cheese first and add the cream cheese and gorgonzola in the end.

Keep stirring until completely melted and mixed.

When the water boils, add some salt in the water and throw in the gnocchi, and cook for 2-3 minutes.

When the gnocchi are cooked, drain the pasta and throw them into the pan with the cheese sauce and mix carefully. Serve, adding pepper on top first.
Notes
If you have time, make your own gnocchi. 
We used Parmigiano, gorgonzola, Philadelphia, and Emmental, but you can change them as you wish. 
Nutrition
Calories:
751
kcal
Carbohydrates:
94
g
Protein:
31
g
Fat:
29
g
Saturated Fat:
17
g
Polyunsaturated Fat:
1
g
Monounsaturated Fat:
7
g
Cholesterol:
77
mg
Sodium:
1960
mg
Potassium:
211
mg
Fiber:
6
g
Sugar:
3
g
Vitamin A:
863
IU
Calcium:
678
mg
Iron:
9
mg
Caution
Nutritional information shall not be used for medical reasons.