[the_ad id="615″]
Lasagna is one of the oldest types of pasta. The name "lasagna" actually refers to both the type of pasta (the lasagna sheet) and the entire dish, usually made with ragù from Bologna, bechamel, and parmesan.
The dish is so widespread in Italy that almost every region has its own variant, some of which include, for example, ricotta instead of bechamel, or vegetables instead of meat.
With this recipe, we will see how to make a vegetarian version of the classic lasagna with ragù, using texturized soy protein.
Etymology and origin of lasagna
Lasagna is the singular term for lasagne (referring to the individual lasagna "sheet"), that Italians use when speaking of this dish. As the dish is made placing several layers of lasagna sheets on top of each other, the plural in Italian is mandatory. In English instead, the term is more used in the singular. It derives from the Latin làganum and from the Greek láganon.
Traces of lasagna can be found already during the Greek period. The similarity with the Italian lasagna is mostly the idea of stacking layers of pasta sheets and a filling on top of each other, while the actual fillings are different.
In Italy, the origin of the baked lasagna dish comes from Emilia-Romagna, where the first mention of it was found in the 13th century.
Regional variants in Italy
In Italy, we can find many several variants of the dish. Without going too much in detail, it's curious to notice how many differences can be found between regions. It is always so wonderfully inspiring to see how the same dish develops into a multitude of various recipes with different ingredients.
In the South, the use of egg pasta was not common. Therefore, lasagna from Campania traditionally contained lasagna sheets made without eggs. Among the ingredients, mozzarella and ricotta romana (ricotta cheese from Lazio) are found.
In Emilia Romagna, lasagna is often called "green lasagna" because it is traditional to add spinach into the pasta dough which colors the sheets green.
Quite curious is the Sicilian version, where hard-boiled eggs, fried meatballs, ragù with peas, ham, and semi-hard cheeses are included. A different version has ricotta as a replacement for white sauce bechamel.
Our recipe will instruct you on how to make vegetarian lasagna, following the most well-known lasagna dish. This one from Bologna, contains ragù, bechamel sauce, and vegan parmesan cheese.
How to make vegetarian lasagna
First thing first: make your own bechamel. If you buy a store-bought one, skip this step and focus on the ragù for the lasagna.
Making the ragù will take approx. 2 hours so take this into account before starting the lasagna. You will need to finely chop celery, carrots, and onion and sautè them with some butter and oil in a saucepan.
You will then add the textured soy and increase the heat, pour some white wine, and then broth for the soy. Add the tomato sauce and cook for around 2 hours.
When it's ready, taste it and check if it needs more salt and pepper. This process follows the basic steps for a ragù (usually made with minced meat) with only a few alterations to replace meat with texturized soy protein.
Once your vegetarian bolognese ragù is ready, butter a baking dish and spread bechamel on it, then a layer of ragù and lasagna sheets. Build several layers, adding vegan parmesan cheese on each lasagna sheet, and keep building layers until covering the entire baking dish.
On top of the last sheet, add bechamel, ragù, butter, and an abundant amount of vegan parmesan cheese. Cook in the oven for 40 minutes at 180°C.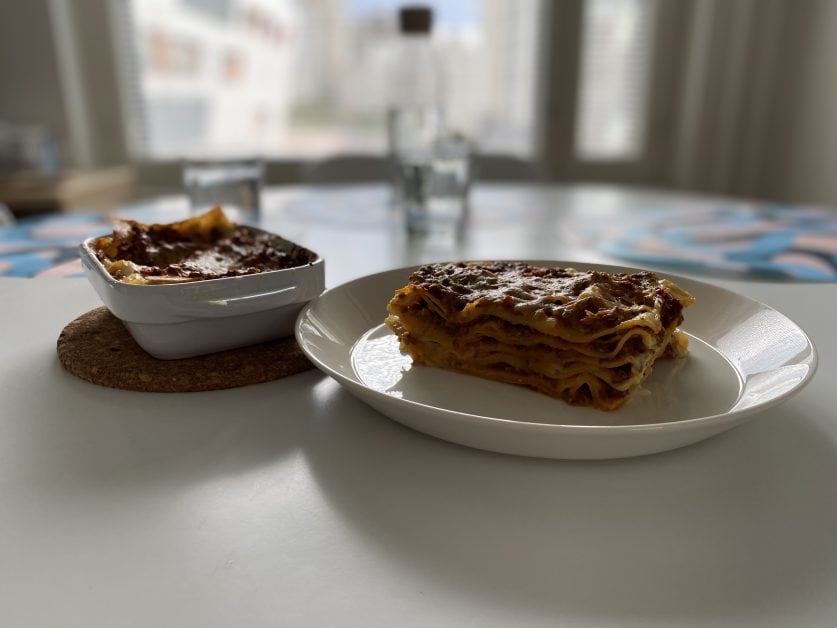 More vegetarian meals
If you need other vegetarian ideas and you have already learned how to make vegetarian lasagna, you can also take a look at some other vegetarian options for your meals:
---
Did you know how to make vegetarian lasagna or lasagna in general?
Do you prefer it with bolognese ragù or with different fillings? In Italy lasagna with mushrooms and without ragù is also pretty common (and quite yummy, we have to say!). Let us know!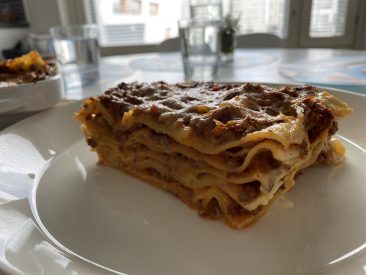 Vegetarian lasagna
Lasagna is a classic Italian dish, that families cook and enjoy on Sundays. This is our vegetarian version where we used texturized soy. You won't notice the difference.
Ingredients  
extra-virgin olive oil

butter

1

carrot

1

onion

1

rib of celery

4

deciliters

texturized soy

to replace minced meat

250

milliliters

white wine

4

deciliters

vegetable broth

salt

pepper

500

grams

tomato passata

250

grams

vegan parmesan cheese

grated

800

milliliters

bechamel white sauce

20

lasagna sheets
Instructions 
If making your own bechamel sauce, follow this recipe. Otherwise, skip this step.

Finely chop the carrot, onion, and celery, or use a food processor. Add them into a large saucepan with some olive oil and a spoonful of butter.

Sauté the vegetables over medium-low heat. Then add the texturized soy and increase the heat. Add the white wine and let it evaporate completely.

Add broth in 3-4 batches, adding more only when all the broth is gone from the pan.

Add the tomato passata and ladleful of warm water. Lower the heat. Cook over low heat for 2 hours, stirring occasionally and adding water if the sauce dries out too much.

After 2 hours, taste and add salt and pepper to taste. Remove from heat. Preheat oven to 180°C.

Prepare a medium-sized baking dish by buttering it. Then add a layer of bechamel sauce and top it with a layer of ragù. Add lasagna sheets to completely cover the lasagna pan.

Create layers by first adding bechamel sauce, topping it with ragù, and adding grated vegan parmesan on top. Then cover with an additional layer of lasagna sheets and repeat.

Repeat until you have created five layers of lasagna sheets. Top the last layer of sheets with another layer of bechamel and ragù. Add some butter on top and top with a generous amount of vegan parmesan cheese.

Bake in the oven for 40 minutes. Let it cool for some minutes before serving.
Caution
Nutritional information shall not be used for medical reasons.