Valentine's Day in Finland (Ystävänpäivä)
Valentine's Day in Finland differs from the ways it's celebrated abroad. In fact, this festivity, also called the Feast of Saint Valentine, is a massive celebration around the globe. Many people spend this day with their romantic partners. Stores start preparing early as this celebration is meant to attract thousands of consumers. It may be a small heart-shaped pillow, a chocolate praline box, a dinner in a fancy restaurant, or even a phone. Everyone is ready for this huge celebration with year after year coming up with new ideas for a nice gift, either big or small. It's the thought that counts…but how did all of this start? Do you know?
The history
If this festivity exists, we have to trace it back to Pope Gelasius I when, in AD 496, he established this day in honor of Saint Valentine of Rome, who more than 200 years earlier had died because he refused to deny Christ in front of Emperor Claudius II. He was, because of this, executed and his head was cut off.
The story has it that he used to cut hearts from parchment and would distribute them to persecuted Christians in order for them to never forget the love of Jesus and their Christian faith. The custom of giving hearts could derive from this gesture that the Saint did.
How it is celebrated in the world
As commonly said, it takes all sorts to make a world. Valentine's Day in Finland differs from how it is celebrated in other countries, but each country has its own traditions too. So, we have decided to take a look at some countries' customs:
There is no need to go much further to find out that already in Wales, Welsh people celebrate St. Dwynwen's Day on the 25th of January, instead of Saint Valentine's because he is the patron saint of love for them.
In Ireland, the custom is to have a Christian pilgrimage to the Shrine of St. Valentine, located in Dublin, in the Whitefriar Street Carmelite Church.
In Sweden, next to our Nordic country, this celebration has not taken hold yet. In fact, not many people buy gifts for their partners or even celebrate the day. It was introduced only during the 1960s. In Norway and Denmark instead, the celebration has become very well known.
Outside Europe, the United States of America celebrates it in the Western way, with exorbitant sums of money spent every year.
In Latin America, both love and friendship days are celebrated, based on the country. In Guatemala, for instance, they celebrate the day of affection, el Día del Cariño in Spanish.
If you are interested in how other countries celebrate it, take a look at this Wikipedia article. You will find out a lot!
The meaning of Ystävänpäivä in Finland
Even though this celebration is all about love in many countries, in some of them it is not about celebrating romantic love, but friendship. For instance, this is the case of Finland, where Finns celebrate the "Friendship Day", the so-called "Ystävänpäivä" in Finnish. This celebration in Finland is about friends, and we believe this is amazing and extremely cute!
In fact, celebrating friendship on February 14th is not an ancient tradition in Finland and dates back to the 1980s. In Finnish calendars, the celebration began to appear only from 1996 onwards.
The same occurs in neighboring Estonia, where this day is called sõbrapäev, Friend's Day. In Finland, and Estonia, is about everyone we care about.
So if you live in Finland, or anywhere else, and you prefer to spend this amazing day with your friends, family, animals, or neighbors, well, you are not the only one! You must know that millions of people in the world already do it.
What to eat on this day
As this is a food blog and we love cooking and eating, we cannot forget to talk about what to eat on this special day.
This year, we decided to make something super nice-looking that would resemble love as much as possible. Which better idea than having heart-shaped pizzas like these for Valentine's Day in Finland? We made the dough, which took a long time as it rested overnight, and then we shaped them like in the pic.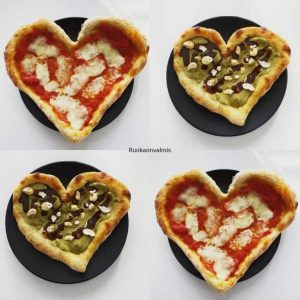 We made a Margherita pizza and a dessert pizza with pistachio cream, Nutella, and chopped almonds on top. That was quite a heavy lunch, but absolutely worth it. Trust me!
Alternatively, if you are not a pizza lover (if they exist…) or if you do not have time to make pizza (more believable), here you may find some lovely and sweet alternatives to celebrate this day.
A sweet alternative to make for this celebration is Belgian waffles, with fruit or berries, maple syrup, and powdered sugar. They will make your day incredibly sweet and spread so much love!
Or, if you want to make something that would work with savory and sweet fillings, the perfect solution is English muffins: they are crunchy on the outside and chewy on the inside, perfect with ham, jam, or simply butter. With these, you will gift a delicious breakfast for whomever you love.
If you want to go the extra mile, you may want to try your own homemade gnocchi, to then cook them with tomato sauce and mozzarella, in order to get the perfect gnocchi alla sorrentina that anyone would dream of!
As you have seen, Valentine's Day in Finland, and not only, is celebrated in a different way than in most other Western countries. This is, according to me, amazing. Each of us should be free to celebrate this day with whomever we wish: a partner, family, friends. We all give and receive love and it does not matter with whom.
What do you usually do and cook on Ystävänpäivä in Finland or in the rest of the world?